Your front lawn can be upgraded in a lot of ways. If you buy Marquees and gazebos, it will be fun to spend time outdoors. They give you many benefits. They will protect you from rain as well as the sun. Marquees and gazebos will provide a beautiful look to your garden. If you are doing casual outdoor parties, birthday parties, or barbecues, Marquees and gazebos may act as temporary shelters. Using a gazebo tent provides a lot of advantages for commercial as well as personal uses.
Portable
Pop-up gazebos are compact, lightweight, and portable. You can carry them anywhere and assemble them quickly. Marquees and gazebos are very easy to set up and dismantle. For this, a team is not required to set up. All you have to do is just open it, then pop, and voila, and afterwards, your gazebo is all set and is ready to be used.
Provide Shades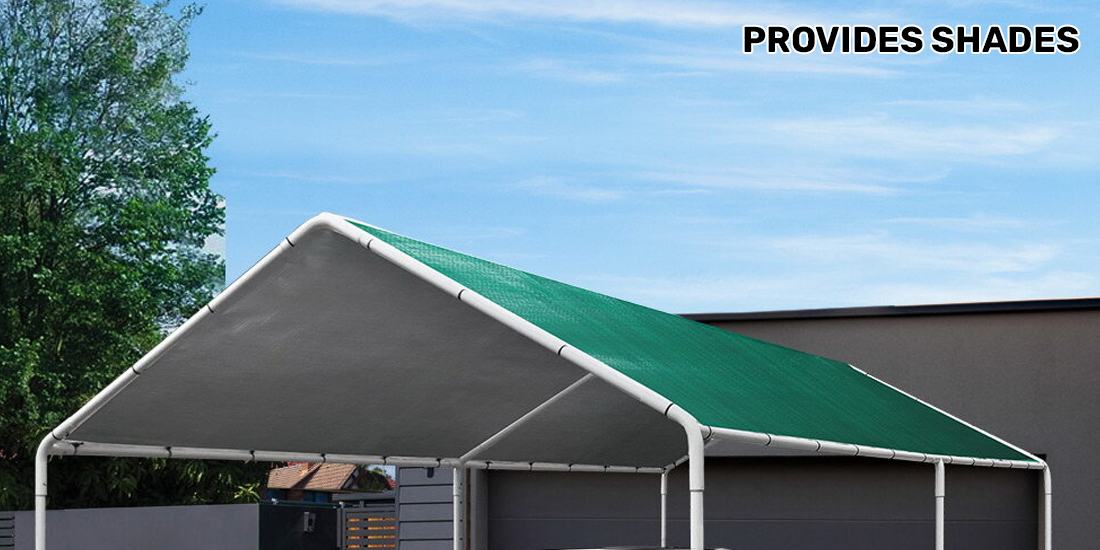 Once you're planning an outdoor event, you should have a backup plan, as the weather can never be predicted. Hence, the Backup plan can be a gazebo tent. A gazebo tent has a lot of benefits. It can give you safety from the scorching sun and harmful UV rays.
If the rain starts quickly, it also protects you and keeps you dry. If you're planning to spend your day on the beach with your kids or going to it for your kids' birthday party, the gazebo will protect you and will help you, and you will enjoy the outdoors. You'll not feel the sun and will not have sunburn. Apart from planning it in summer, you can also design your events in winters with portable sidewalls that can be closed shut with Velcro straps. They keep you protected from sleet and snow.
Easy Setup
A gazebo is very beneficial and highly suitable to set up, and its most significant advantage is that it is portable. It has a great structure which is made up of good material. Its material is lightweight, which is of aluminium and can be carried smoothly. The gazebo is easy to set up and can also fit in the back of your car or van. There is no hassle involved in assembling as you do not need any tools for it. The Marquees and gazebos from the Afterpay Store, like HR sports, can be set up quickly.
A pop-up gazebo can also be used for branding. Suppose you're taking part in a trade show or any other event such as a networking event. In that case, your logo can be printed on your business website, artwork printed over its roof, and slogans that attract the customers. Many of the suppliers use printing, which is digital printing. They also use anti-fade inks in it, and they have perfect quality fabric because of this the brand of your company colours pop up and gives a beautiful look.
Versatile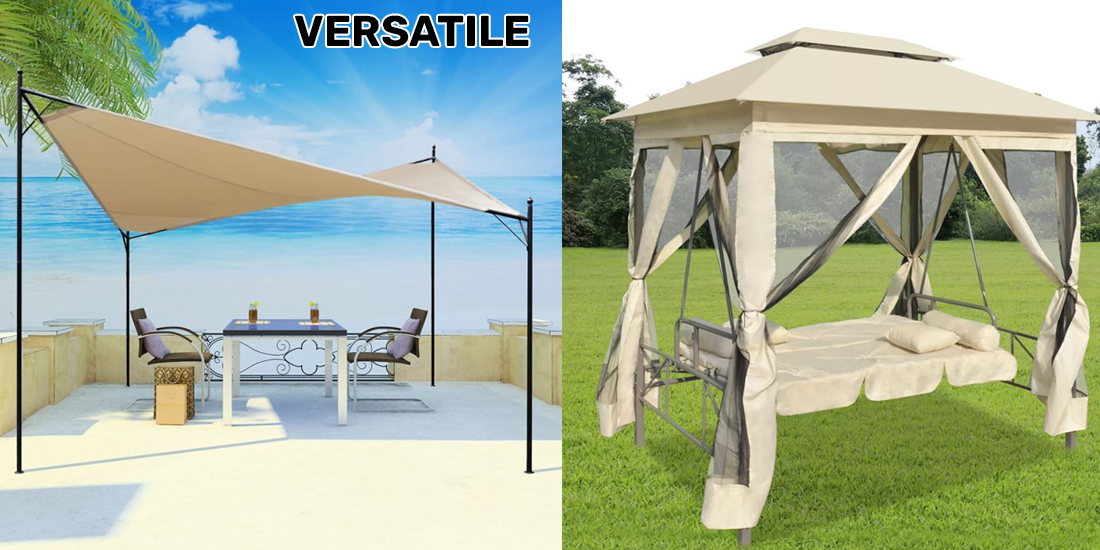 A lot of people use marquees and gazebos for different purposes. Few want to use it as a shade for them, which can be temporary and removed and put whenever you want. Others use them for get-togethers. Few uses that to protect themselves from the sun during their different parties, such as birthday parties or any other barbecue party.
Some business owners shop for gazebos to show off their brands in trade shows and exhibitions. On the other hand, few want a temporary shelter or a solution to stay across their pool—overall, the gazebos tent suit all these requirements of a particular person. Gazebo tents have a lot of options; they are of different sizes, colours, and shapes.
Affordable
Pop up gazebos are not expensive, and everyone can easily afford them. People think it is costly and not affordable, but it is a misconception. Gazebo tents are versatile due to which the price of them is worth paying for them. They have different prices depending on their size, quality of material, and branding. Get the Marquees and gazebos from HR sports that are an Afterpay Store, so you can buy now and pay later.
It is better to buy a pop-up gazebo from an authentic vendor that will result in a good buying experience. It will help you in many ways; it will be of high quality; it will have a warranty on it. And one more thing, it will have replacement facilities for faulty parts with spare ones quickly.
Factors to Consider When Buying Marquees and Gazebos From Afterpay Store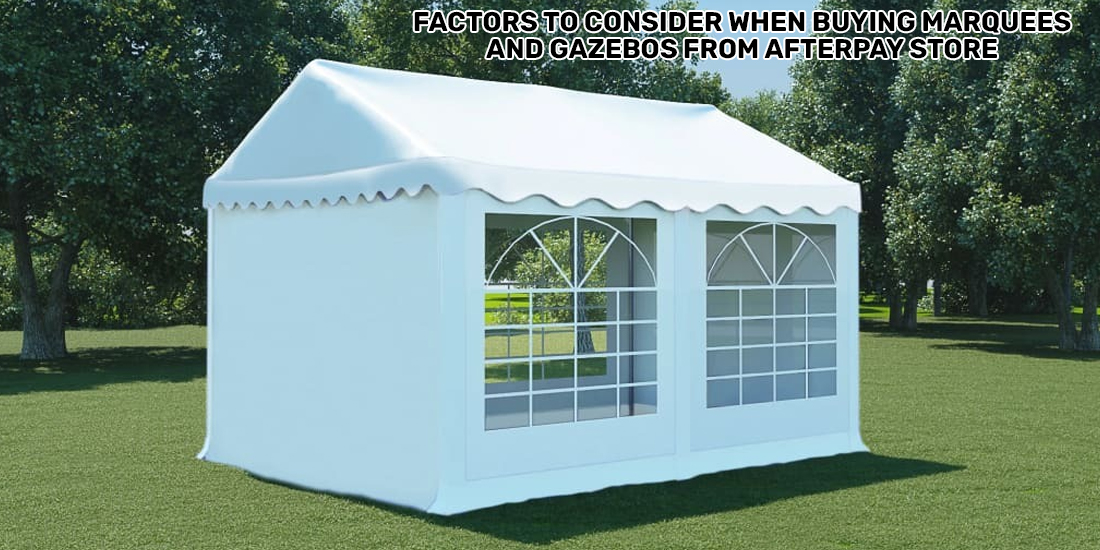 Gazebo tents have a lot of factors that should be considered when you are buying marquees and gazebos. It is a unique structure made to create a space where people can protect themselves from the sun or rain. They can also be fixed in lawns when you want to grow different roses and protect your grills. Modern gazebos are built to provide the perfect roof for your outdoor space. Choosing the best gazebo tent can be difficult as it has a variety of models and designs available.
You should select a gazebo tent that meets his or her garden's requirements. Below are some of the factors that will help you choose the ideal gazebo tent for your outdoor space. The weight, construction and materials, dimensions and surface area, and frame material of the marquees and gazebos are all critical factors to consider when purchasing a gazebo tent.
Legs
Legs play an essential role. There are different types of portions of gazebo tents; few are slanted, and others are straight. Legs have an impact on the gazebo tent structure. Gazebo tents having straight legs are expensive and stable, and on the other hand, having slanted legs is less costly and takes a lot of space.
Size
There are different sizes and shapes of marquees and gazebos. For parties that need a fast setup, instant marquees and gazebos are used. For birthday parties, folding gazebos are used. But they are not used in weddings as there is less space in them.
Professional gazebos are used for the trade-show or other business activities. Gazebo tents used for such activities have business names and other promotions on them to be specific for businesses. One should plan and then get a gazebo tent according to his or her needs.
Materials of Frame and Roof
The main components of the gazebo tents are their canopy roof and the frame. Steel and aluminium are used to make frames. Steel frames are more prominent and strapping than aluminium ones. People like using canopies with aluminium as they are light and movable. They are also durable as they are made up of good material.