Are you planning for your next trip? Before making a plan, you should learn more about a shelter that can be cosy and keep you safe, and at the same time, it can be carried around easily. It is always tricky for camping enthusiasts to decide whether camping swag is better than a tent. Although every object has its advantages and drawbacks, swag is a little more beneficial. It is manageable and gives you nostalgic feelings as well. There are several advancements in design and material.
Now, camping swag can be used as an extra bed for sleepovers, and you can keep yourself above the ground when camping.
There are some other Advantages of Camping Swag for your upcoming Trip:
Easy Set up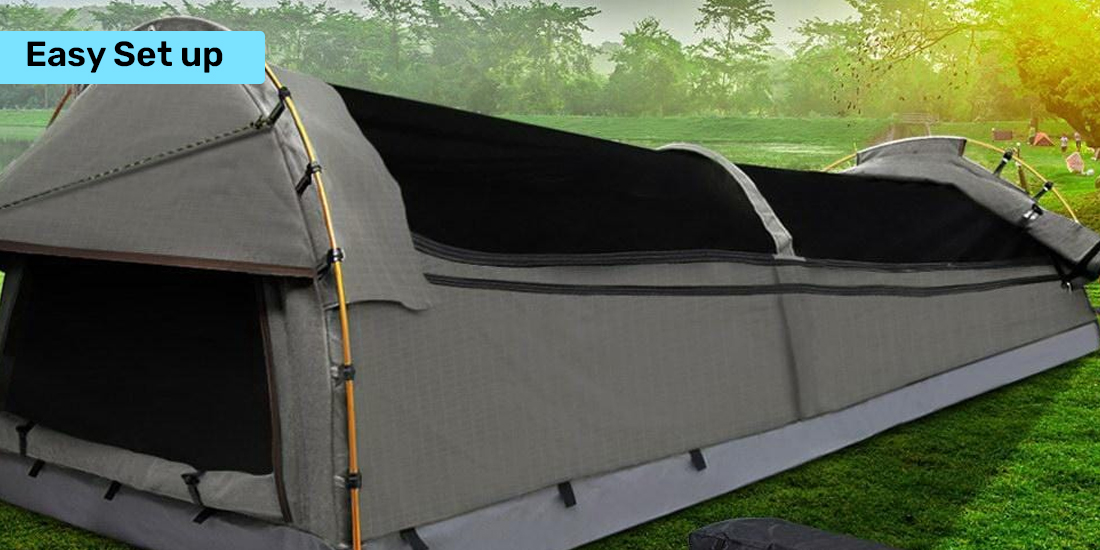 The primary benefit of having camping swag is that the setup is quickly done. If you are camping for the first time, it won't take much energy and time. It is hardly a matter of a few seconds, and then you can enjoy it without worrying about anything.
You just have to unroll the Camping swag at your chosen campsite. Only two pegs are required to set up most of the swags. You can either tie it to the tree or vehicle if you want to skip this step. To have a quick and well-organised system, you can even place your blanket or sleeping bag in your camping swag.
Packing up the swag is also effortless as you only have to roll it, which can be done in a minute. Altogether, a swag tent gives you the same comfortable Trip, just like the small canvas tent, but with little effort.
Bringing the Essentials
For a simple overnighted plan, you only need camping swag. You can roll in your pillow, sleeping bag and all other necessities. This will help you in reducing the luggage you have to carry along. A swag tent also occupies less space than a tent, and it is easy to carry. We know buying camping gear is an investment, but you can get camping swag by using Afterpay payment methods, which allow you to buy now and pay later. It will make your shopping for camping swag and other camping gear a lot easier.
Great Temperature Control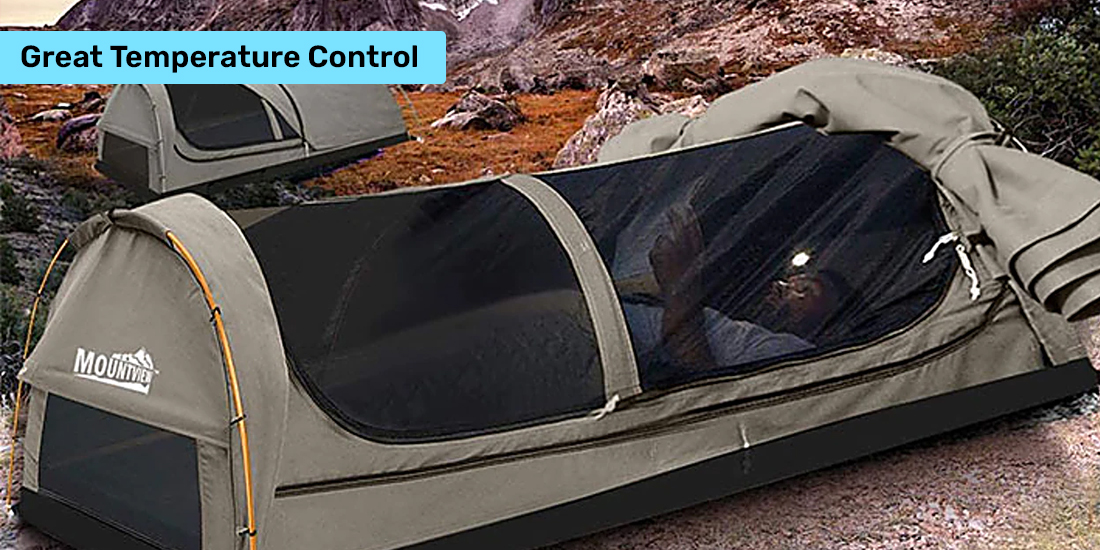 For a comfortable sleep, camping swag is the best option, whether you are camping during winters or summers. It will keep you warm on a cold night because the heavy canvas maintains body warmth. The heat is also trapped inside by the PVC vinyl floor. Also, an air mattress is less cosy and cannot keep you as warm as the inbuilt foam mattress can.
You might be thinking that these features will not be suitable for summer. But there is no need to worry because, during summers, you just have to open the ventilation windows after removing the top canvas layer. This will let the calm wind come inside, and the crawlies will stay away.
Highly Durable
The materials used to make the camping swag tent resist even after rough usage. The swag for sale is made in a way that can pull through challenging circumstances. The durability is promised, and it is not necessary to handle them with care. You can just put them in the car's trunk when they are not in use. The camping swag can be carried on hot desert safaris and during stormy weather, and it will still be perfect for a long time.
Great for Stargazing
Swag for sale allows you to lay down directly under the sky. You just have to remove the canvas layer and sleep on the warm foam mattress. The mosquitoes and bugs will stay away from you because of the mesh layer of the swag tent.
The solid canvas sides of the swag provide safety during the night. You will love the experience in the summers.
Comfortable Sleep
The heavy canvas material only allows a small amount of sunlight to enter the swag. So you can sleep until you don't feel like waking up. It also acts as a protection for you at night. The swag for sale manages to provide a comfortable sleep during the night. You can get swag for sale from online stores that sell camping gear like HR sports. All the camping swag will make sure that you get a good night's sleep.
Natural Materials
Camping is all about exploring nature. A bright-coloured tent will not look good in between the trees and mountains. The Camping swag for sale is the best choice if you are looking for a shelter with natural materials which mix up with the environment.
Works without Pegs
Most of the Camping swags come with pegs, but it is not necessary to use them. You can also skip this step if you are unable to place them. The swag tent can easily manage to hold itself. However, if there are strong winds,, you are advised to tie the swag to protect a tree or a car.
Conclusion
Maybe we are successful in convincing you to carry a Camping swag tent with you for your next trip. You can put your trust in our words and give it a try. You'll surely be satisfied with the swag tent. If you have ever gone camping, you know how vital Camping gear is to make your camping trip great. Make sure you take your camping swag along, as you will not be able to sleep peacefully without it.
When you are camping in mountains and jungles, especially then, one of the few things you need in your camping gear is camping swag. A camping swag will be extremely important due to the bugs and insects that will be there in the jungle or mountains. Buy the perfect camping gear such as camping tents. Camping swags and whatnot from HR Sports where you can buy the best products now and pay later using the best payment methods like Afterpay. Buy now and enjoy spending later with Afterpay Store HR Sports.