Just by reading the name pet stroller, you may have popped an image in your brain because the stroller is used somewhere else as well. Just like the baby stroller, it is also used for taking your pet outside without letting them walk. It doesn't matter if you want to go to the office or if you have a great mood for running at the corner of the beach. This stroller will give you all these benefits because it can carry your pet in a more efficient way.
Now there is no need to leave your pet behind at home just as you cannot take care of them while working here and there because the stroller is going to do the job.
So, when you are trying to tame your pet which is new to your home now, you can also tame him in the public area, which is, of course, crowdy with the help of a pet stroller because it will give him a little space where your pet can rest, and you can tame him as you want. When your pet is tired, then the stroller will be there for him because all he needs is to rest, while the stroller will be pushed by you to the home.
Apart from all these things, there are five creative ways that how can you use your pet pram, which is mentioned below:
As A Pet Bed
A pet is a kind of member of the family who also needs some affection from you, sometimes from you as well as some space in the home as well for sleeping and strolling. Do you think that there is not enough space in the home for keeping a bed? So that your pet can sleep and rest on it, but you need to take your pet outside as well in a more secure way then, a pet stroller is a very great choice because despite rolling in the outdoors, it can also be used as a pet bed inside the home.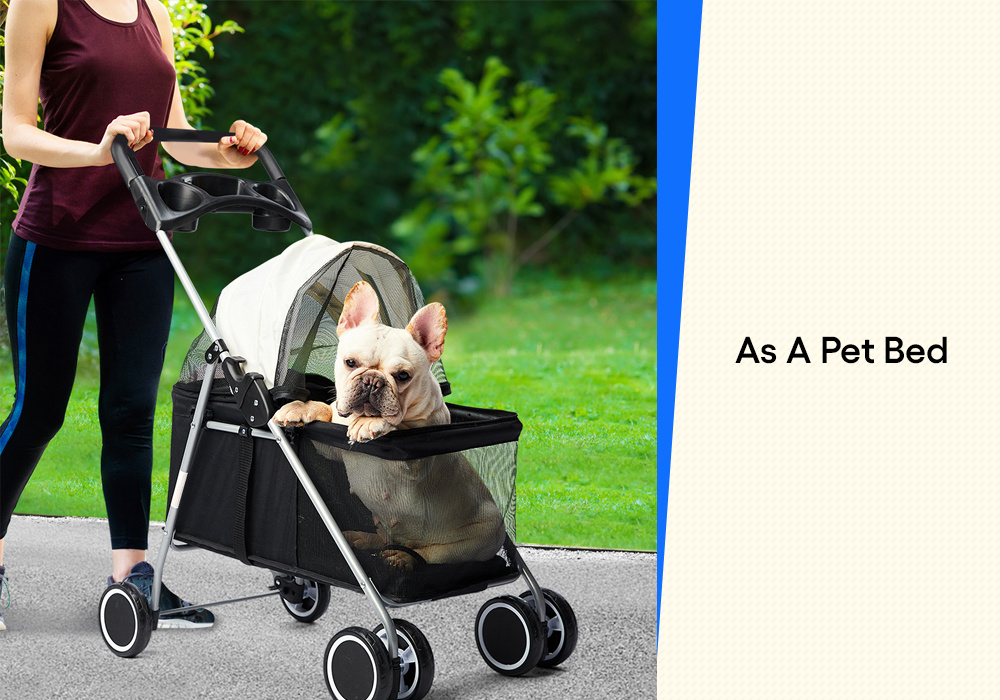 What you can do for a pet stroller and your pet is you can include some cushions and pillows inside the stroller, so whenever your pet sleeps inside it, he may feel comfortable and easier to sleep so that he can take a nap for more hours. So, using the stroller as a place where your pet can sleep can make a habit so that it will always attract your pet towards him and play within the stroller.
As A Motivation To Exercise With Pet Stroller
A pet stroller is a very great thing if you want to lose weight by exercising in a modern way. If you want your pet to get entertained by the outside environment, you can take the stroller and your pet along with you and keep on walking for a long time so that your pet can get delighted, and in the same way, it will provide you with exercise.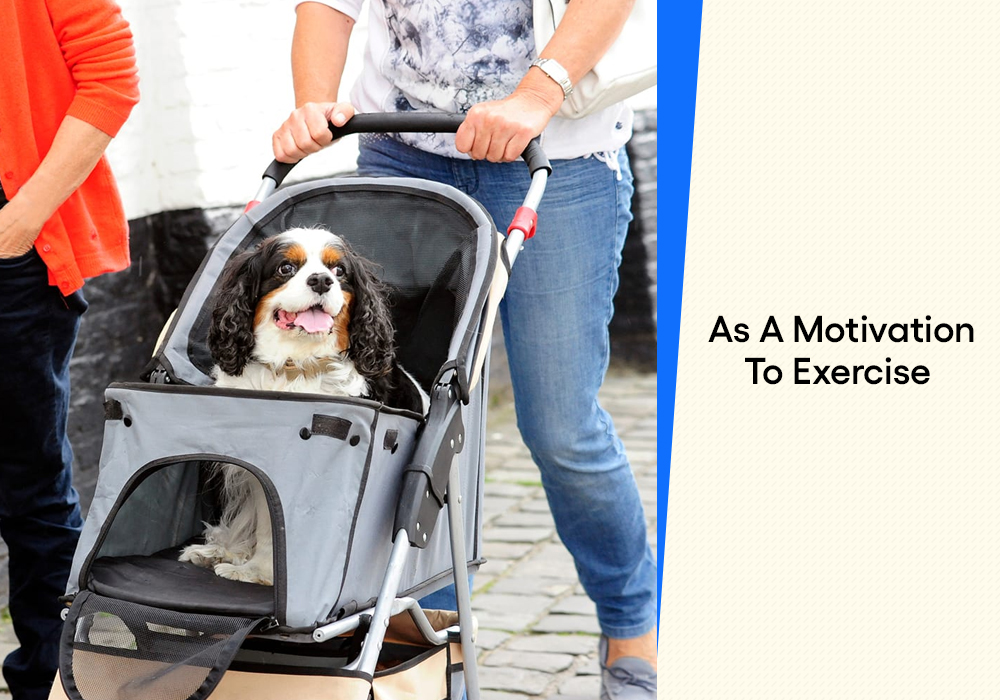 You can get great motivation if you want to increase your bond with your pet, so you will think that you need to go on different walking sessions with your pet outside using the stroller for better bonding.
And when you think about it that way, it will give you the great motivation that will provide you with the exercise in a different way. So, therefore, there is no need to worry about going to the gym and giving your trainer a great piece while you can achieve your goal with the help of a dog stroller.
As A High Chair
You are well aware of the risks lurking all around your senior dog if they have mobility concerns. Floors, obstructions, stairs, etc., can present safety risks. Using your pet stroller as a highchair-like device is quite intelligent because if your dog loves you, they constantly want to be accessible to see you or be nearby to you.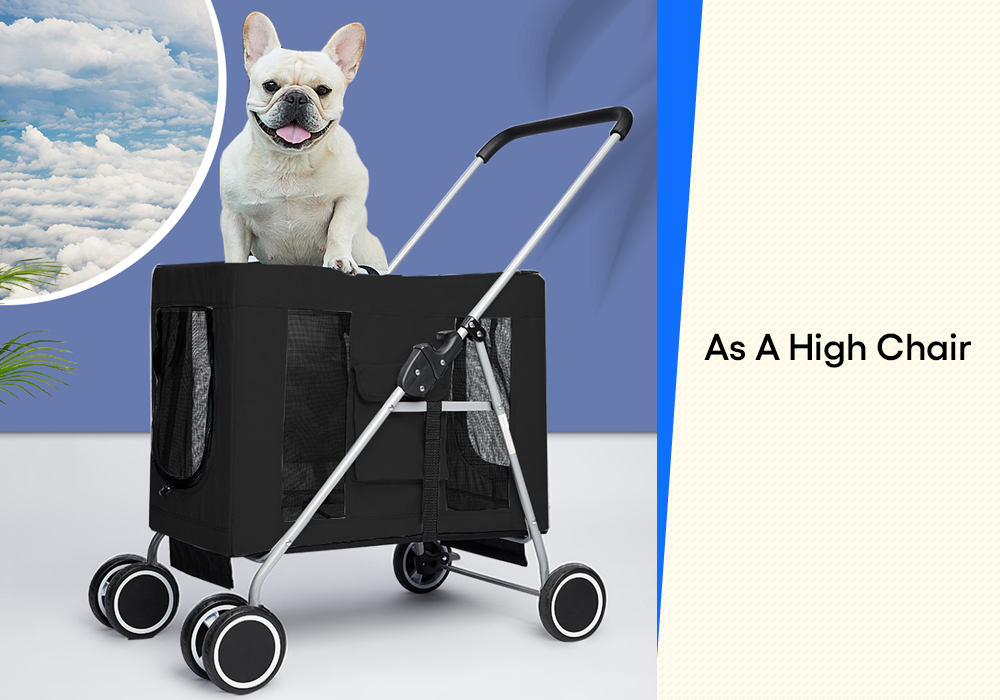 Not only does it provide them with a better view of you and the things you enjoy doing, but it also keeps them protected, which is probably the essential point. When operating in underground garages, folks utilize this technique to keep their dogs close by and out of harm's way. Some really use their dog stroller or pram in family rooms as an additional chair for lounging about or watching TV.
Not only this, You can use your pet stroller as an eating platform for your pet if you have a dog or cat that is wounded and unable to walk or has weak bones that may be the consequence of an accident. As opposed to holding the pets in your arms, you will be better able to control them when using the stroller to take them outside or upstairs. A stroller can assist you in providing the extra care that such wounded pets need to prevent further injury.
For Shopping for The Best Dog Stroller and Pram
Some people are very fond of shopping, and they cannot even sit for a minute without going shopping, but if you have a pet in the home that you need to take care of but you also want to go shopping, then the pet stroller provides you with a great solution. You can take your pet along with you without leaving him alone in the home because, in this way, the pet will be in front of your eyes all the time and may also enjoy the outdoor environment with you wherever you are going.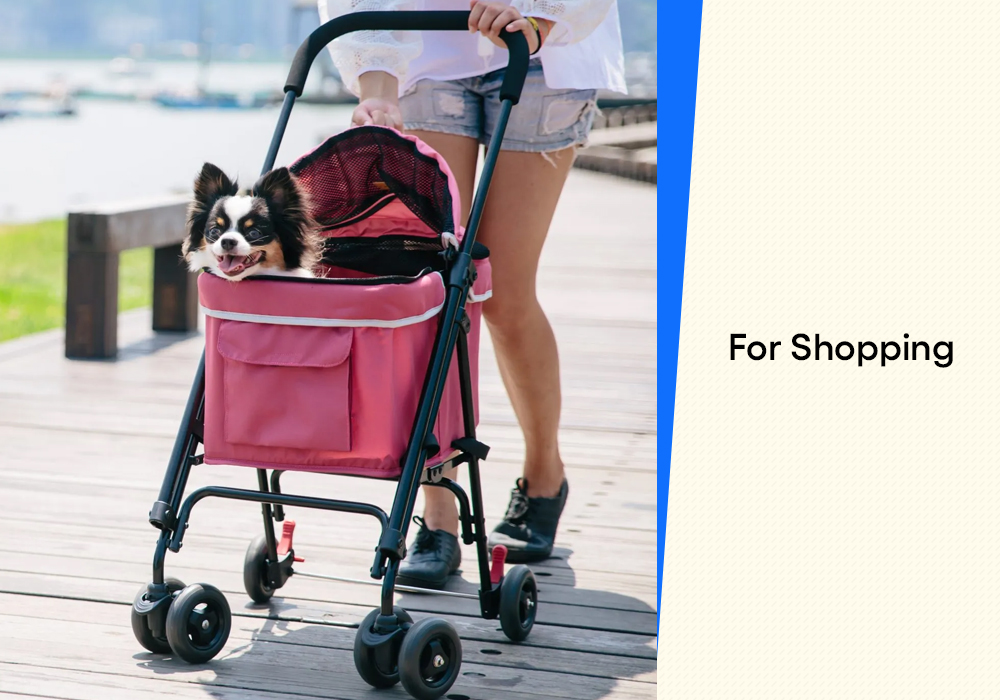 A Pet stroller will provide your pet with a safer environment and mental satisfaction for you as well because you know a stroller is a more secure idea because strolling your pet outdoors when you are shopping rather than the idea of leaving it alone in the home.
But if you get stuck in an emergency and you cannot visit home after shopping, and your pet is hungry alone in the home, therefore, you can also keep some pet food in the stroller so you never need your pet to eat it while you're shopping.
Pet Stroller Support You
After reading all this, you might be thinking that the pet stroller is greatly beneficial for the pet only, but that is not the case. Just as the stroller provides support to the pet in the same way, it also supports you. There are certain conditions in which a doctor advises a person to take rest and go for a secure walk for healthy joints in case there is some damage to your joints.
In this scenario, you can take your pet along with you for a walk because the stroller will provide you with support due to which there will be less pressure on your joints so you can walk in a more secure and safe way as well as spend some time with your buddy outdoors as well.
Getting Your Dog Used to Ride in a Stroller
Make Your Dog At Ease In The Stroller
Because they are big and unfamiliar, strollers can be frightening to many dogs. But because this is such a crucial phase, it is advised that you take your time. Bring the pet stroller somewhere your dog can easily explore it, and lock the wheels to prevent it from moving unexpectedly.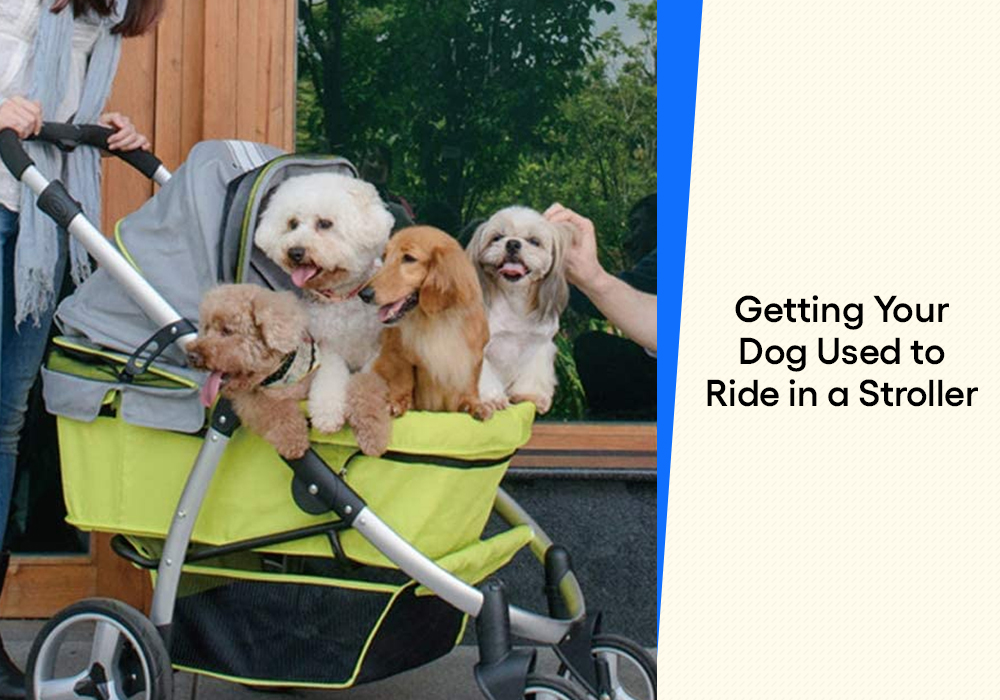 Early Reinforcement Of Praise For Excellent Behaviour
You can also give your dog some goodies as a reward if they behave well around the stroller to make sure they continue to have a good time. If your dog appears nervous or uneasy, back away from the stroller until they become calm, and then give them treats (or a toy).
Get Up And Move Around (Slowly)
Once your dog appears at ease, disengage the wheels and ask your companion to move it a little. Give your dog some cookies as a reward if they remain quiet. As previously advised, if your dog is shy, you should go further away until your dog feels secure before trying again. Here, we want to make sure that your dog enjoys his time in the moving stroller.
Fix The Straps
Now that your dog is comfortable with the pet stroller. You can pick it up and put it down. You may entice larger dogs that are too heavy to be picked up into the stroller. Offer goodies after your dog is seated in the stroller. Pause and attempt it again later, continuing your journey to this stage if your dog finds the encounter upsetting or frightening. You might wish to repeat this over a period of a few days.
Activate Movement
If your dog is still content after the previous steps, move the stroller around for a little while, keeping them inside while giving frequent treats and praise. Feel free to continue if they stay at ease and composed, but keep an eye on their stress levels. If your dog is shy, go slowly.
Attempt Longer Expeditions - Best Dog Stroller
Take this performance on the road once your dog has a pleasant experience at home. Start by picking areas with few unnecessary stress-causing distractions. It's time to start moving with your dog right now. Bring your dog's collar and leash with you when you go on your next pet stroller walk.
If you want to buy a pet stroller for your dog, then you can visit Hr Sports. They have a great collection of strollers available at a budget-friendly price. Buy now with pay later. We have multiple payment options are available Afterpay, Zippay, and PayPay. You can also pay via credit, debit card, and bank transfer.