If you are stuck and do not improve the interior design, you can start thinking outside the box, like totally outside. This age is different, and there is a diversion in the traditional designs as well as repurposing old ideas to create something new. You can use Outdoor Furniture inside to set the trend. You can use Outdoor Furniture to improve the house practically. You can Buy Outdoor Furniture online on websites such as HR sports, as there is the best outdoor furniture sale. There are some reasons as to why you should Buy Outdoor chairs online and bring them inside.
1. Make your Online Home Shopping Australia Easy
If you have poets and kids at home, you can think about the amount of damage they can do. If you have sensitive upholstery or rick wood frames, nothing will stay as it is with pets and kids. The pillows and cushions made of delicate fabrics for being used indoors are always prone to be attacked by roughhousing or juice stains. Suppose you get your cushions with Outdoor chairs.

In that case, they will be covered with the acrylic fabric that is designed to stay as it is throughout the year to withstand the exposure to the sun as well as bad weather conditions such as rain or hail to the muddy shoes and impromptu fights. The pets can chew on soft furniture, but Outdoor chairs are made to be tough and offer lightweight wrought iron or aluminium frames. Buy Outdoor Furniture online and get rugs with it as it will mean a lesser mess.
2. Outdoor Chairs will Save you Money
Outdoor chairs are mostly less expensive as compared to indoor furniture. If you get high-quality indoor furniture, it is costly because the material used to make it adds to the cost, but based on the outdoor material you select for the Outdoor chair with afterpay, you can save some money on something quality.
You should do your research before you Buy Outdoor chairs online. Apart from the price tags of Outdoor chairs, they will also save you money when you use them for longer as they will not be damaged, and you will not have to spend money on unique cleaning supplies. Some all-weather outdoor chair sales are very easy to maintain and need just a quick wipe with a damp cloth. Compared to the upholstery cleaners, scented sprays, wood finishes, etc., that adds up to the cost, you know this is cheaper.
3. Moving Outdoor Furniture is very Easy
A few pieces of indoor furniture are very heavy, and moving them around can be a tough task. Outdoor chairs are made of lightweight material as they are made to be used outside. Aluminium frames are lightweight, and you can quickly move them around when you have to rearrange your furniture.
The all-weather wicker material is like a feather to move. You can remove the cushions while with a few couches; they are made in the frame. So for these reasons moving the outdoor chair sale is very easy, and then rearranging the Outdoor chairs as you like becomes easy.
4. Outdoor Chairs are Versatile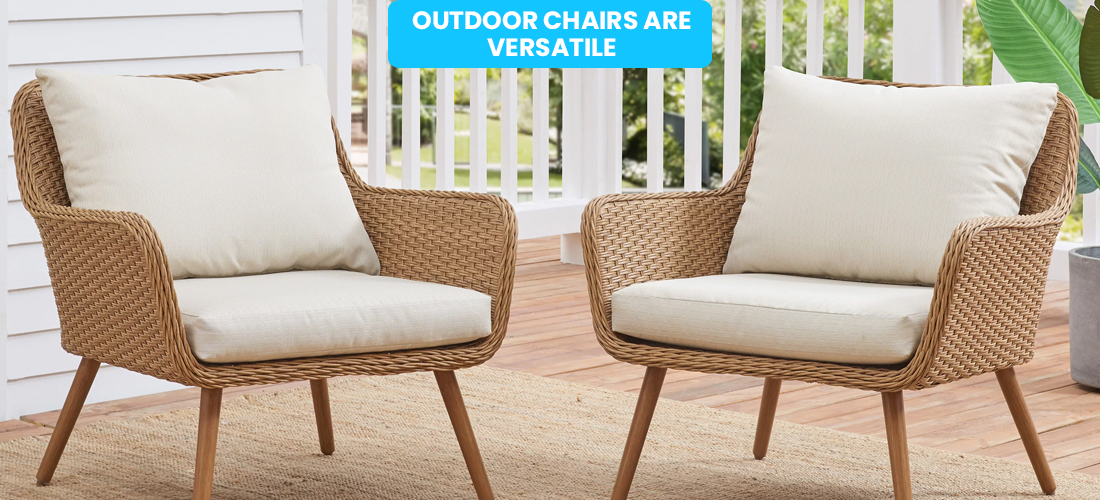 The coolest feature of an Outdoor chair with afterpay is that you can use it indoors and outdoors. If you already have a lot of indoor furniture, you can use it outdoors, or you can use it outdoors during the summer months and then bring it inside during winters so that your interior design can be twisted. It will give the indoor furniture rest as it sits in the storage that will have an effect on the lifespan of indoor furniture.
5. It is a Timeless Investment
The strong manufacturing process and great design principles make the Outdoor chairs look excellent and durable even when exposed to harsh climates. Imagine how long it will last indoors and can significantly impact the aesthetics for the coming years. Some homeowners think that outdoor space is an additional living space that requires decoration like the indoor space. Manufacturers make their range of outdoor furniture from sophisticated materials and they are cost-effective as well as durable. The outdoor chair sale is getting better, and they last longer, so they are a very popular investment.
6. You can do it Yourself
If you plan a movie night at home, you can pick your Outdoor chairs and keep them anywhere you want to make your little cinema. After enjoying the movie, you can easily put it back in its space. Even younger kids can move the Outdoor Furniture. You can also make it yourself, as many of these pieces come with tools and different parts.
There are several reasons to Buy Outdoor chairs online. Few of the Outdoor chairs are made of reclaimed material so you can decorate your home. Buy Outdoor Furniture online that is sleek and has an attractive contrast with your house. You must Buy Outdoor Furniture online when you want to redecorate your space. The Outdoor chairs and other Outdoor Furniture can be great for decorating indoors. It will probably be the best decision that you can make. It may be a temporary arrangement or a permanent arrangement depending on how you like it.
Outdoor furniture is fascinating. There are many variations, including eco-friendly materials, recycled materials, etc., so you will get what you want from the outdoor chair sale. You can buy Outdoor chairs with afterpay through afterpay stores like HR sports. They will allow you to buy now and then pay for your Outdoor chairs later, which will make your shopping easy and affordable for you. You can also Buy Outdoor Furniture online At HR Sports as Outdoor chairs with afterpay.