Easter is a special time of year when families gather together to celebrate the resurrection of Jesus Christ. One of the ways to make the celebration even more special is by cooking delicious Easter recipes with your kids. Cooking together is not only fun but also helps to create lasting memories. In this article, we have compiled a list of the best Easter recipes for kids, along with the ingredients and kitchen utensils needed to make them. Additionally, we have included some tips for making the best Easter recipes.
Easter Egg Cookies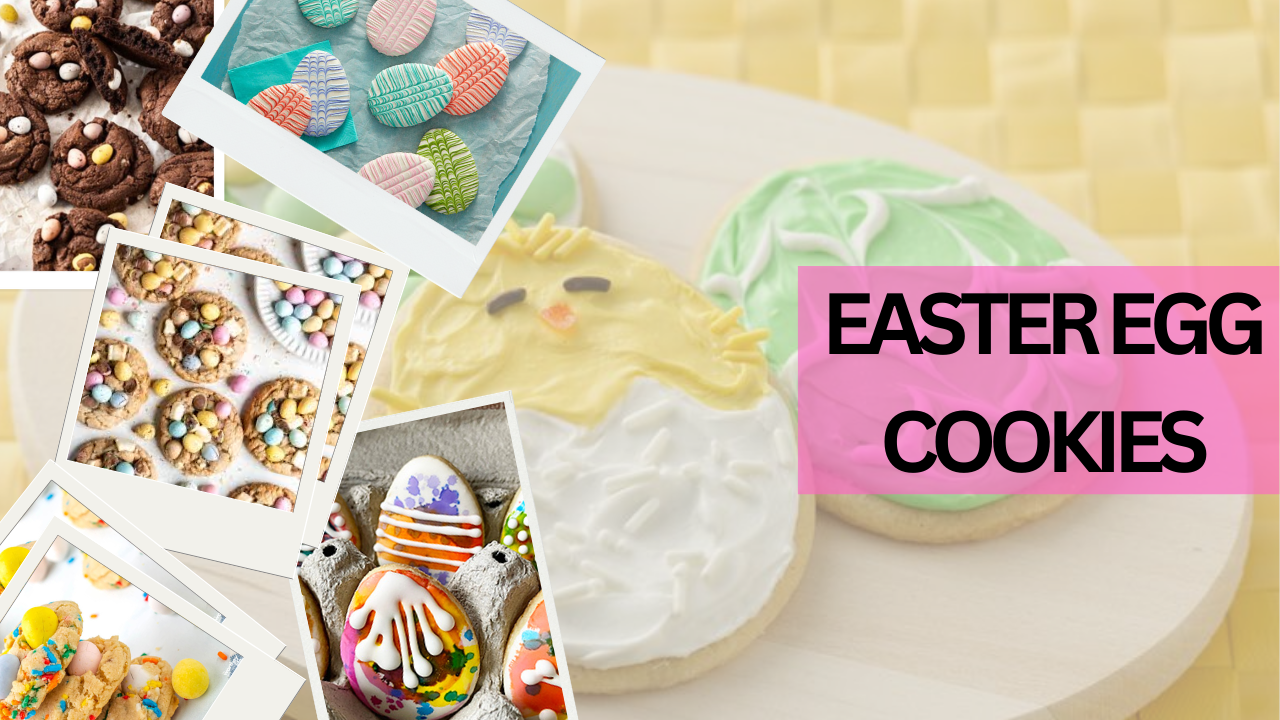 Ingredients:
1 cup unsalted butter, softened
1 cup granulated sugar
2 large eggs
2 tsp vanilla extract
3 cups all-purpose flour
1 tsp baking powder
1 tsp salt
Food colouring
Decorating materials (sprinkles, edible markers)
Instructions:
Preheat oven to 350°F (180°C).
In a mixing bowl, cream the butter and sugar until light and fluffy.
Add in the eggs and vanilla extract and mix until well combined.
In a separate bowl, combine the flour, baking powder, and salt.
Gradually add the dry ingredients to the wet mixture, mixing well after each addition.
Divide the dough into separate bowls, add food colouring to each bowl, and mix well.
Roll out the dough on a floured surface and cut out egg shapes with a cookie cutter.
Place the cookies on a baking sheet lined with parchment paper.
Bake for 8-10 minutes or until lightly golden brown.
Decorate the cookies with sprinkles and edible markers.
Easter Bunny Cupcakes

Ingredients:
1 box of vanilla cake mix
3 eggs
1/3 cup vegetable oil
1 cup water
1 can of vanilla frosting
Pink food colouring
Marshmallows
Black icing
Instructions:
Preheat oven to 350°F (180°C).
Line a muffin pan with cupcake liners.
Prepare the cake mix according to the package instructions.
Pour the batter into the muffin cups and bake for 18-20 minutes or until a toothpick inserted in the centre comes out clean.
Let the cupcakes cool completely.
Mix the vanilla frosting with pink food colouring to make the desired shade of pink.
Frost the cupcakes with the pink frosting.
Cut a marshmallow in half and place it on top of each cupcake for the bunny ears.
Use black icing to make the eyes, nose, and whiskers.
Carrot Patch Pudding Cups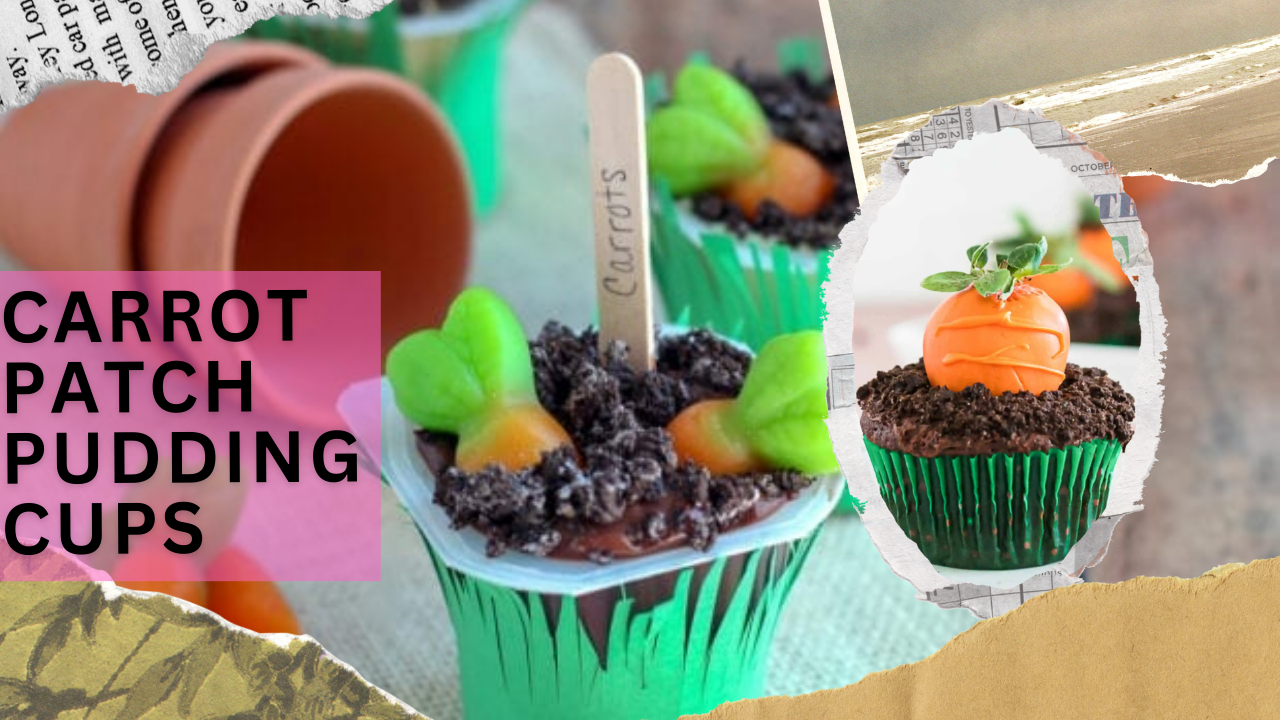 Ingredients:
1 package of chocolate pudding mix
2 cups cold milk
1 package of Oreo cookies
Orange food colouring
Gummy worms
Instructions:
In a mixing bowl, whisk together the pudding mix and cold milk until smooth.
Add a few drops of orange food colouring to make the pudding look like carrots.
Crush the Oreo cookies in a separate bowl.
Layer the crushed Oreos and pudding mixture in clear cups.
Place a few gummy worms on top to create the carrot patch.
Spring Vegetable Tart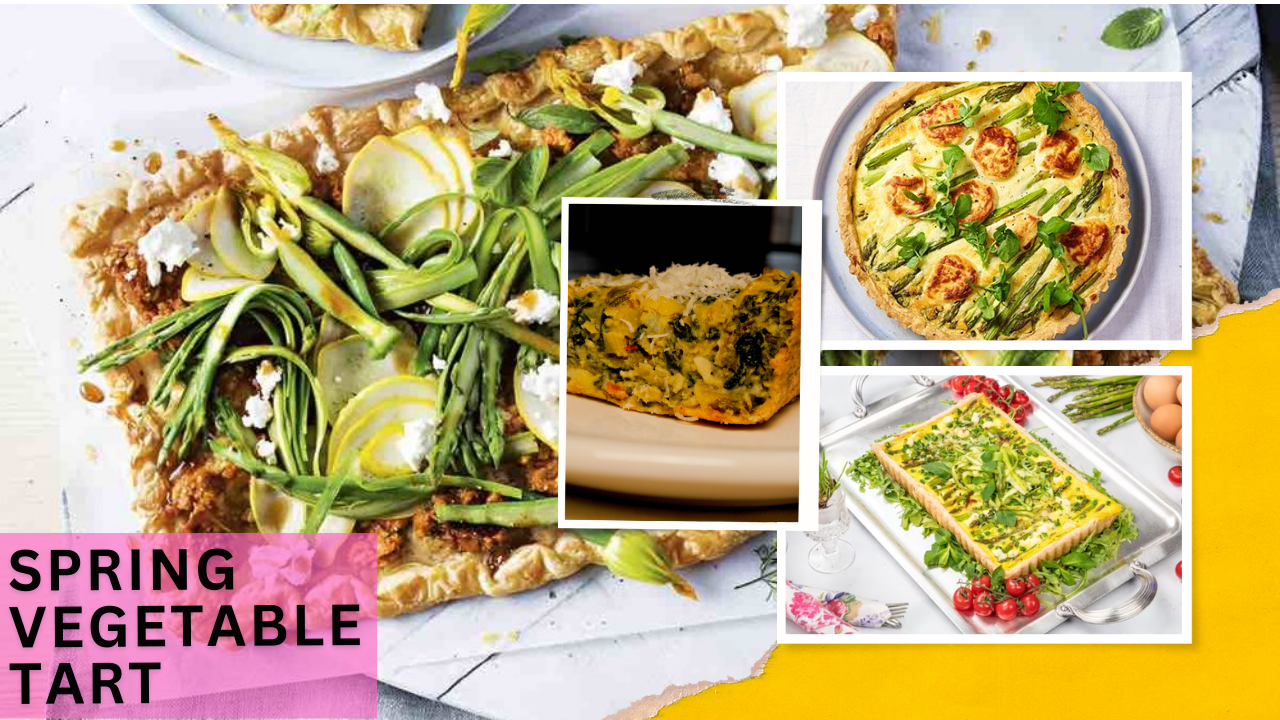 Ingredients:
1 sheet frozen puff pastry, thawed
1/2 cup ricotta cheese
1/4 cup grated Parmesan cheese
1/2 teaspoon salt
1/4 teaspoon black pepper
1/4 teaspoon dried thyme
1 cup chopped asparagus
1 cup chopped zucchini
1 cup chopped cherry tomatoes
1 tablespoon olive oil
Instructions:
Preheat the oven to 400°F (200°C).
On a floured surface, roll out the puff pastry to fit a 9-inch tart pan.
Transfer the pastry to the tart pan and prick the bottom all over with a fork.
In a small bowl, mix together the ricotta cheese, Parmesan cheese, salt, pepper, and thyme.
Spread the cheese mixture over the bottom of the pastry.
In a large bowl, toss together the asparagus, zucchini, cherry tomatoes, and olive oil.
Arrange the vegetables over the cheese mixture in the pastry.
Bake for 25-30 minutes, or until the pastry is golden brown and the vegetables are tender.
Serve warm or at room temperature.
Easter Rice Krispie Treats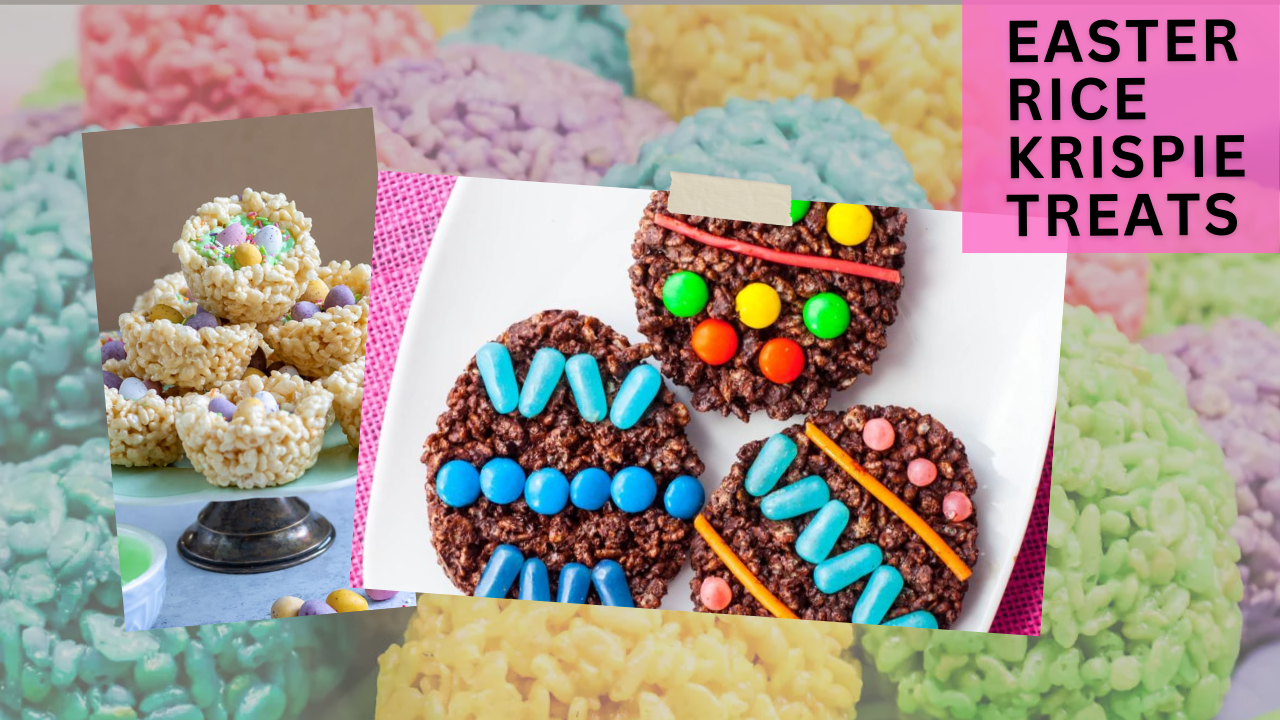 Ingredients:
6 cups Rice Krispies cereal
4 cups mini marshmallows
1/4 cup unsalted butter
Pink food colouring
Easter candy for decorating
Instructions:
In a large pot, melt the butter over low heat.
Add in the mini marshmallows and stir until melted.
Remove from heat and add in a few drops of pink food colouring.
Mix in the Rice Krispies cereal until well coated.
Press the mixture into a greased 9x13-inch baking dish.
Let the mixture cool and then cut it into Easter egg shapes.
Decorate with Easter candy.
Kitchen Utensils and Appliances Needed to Make Recipes
To make the Easter recipes listed above, you'll need some essential kitchen tools and utensils, such as mixing bowls, measuring cups and spoons, spatulas, wooden spoons, whisks, baking sheets, and muffin pans. You may also want to have parchment paper on hand for easy cleanup, and cookie cutters for creating fun shapes
.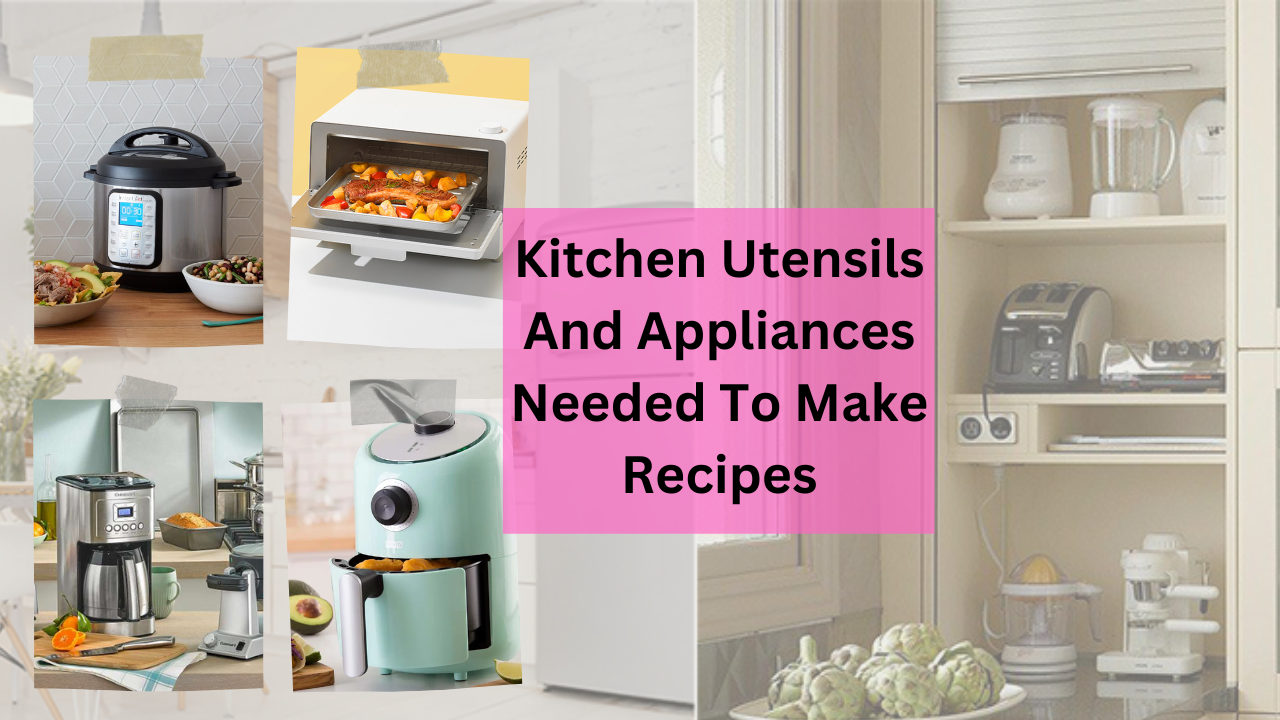 Additionally, you'll need some specialized tools for specific recipes, such as edible markers for decorating cookies, food colouring for tinting frosting and pudding, black icing for creating bunny faces, and gummy worms for the carrot patch pudding cups. To make the Spring Vegetable Tart, you'll need a tart pan and frozen puff pastry, as well as a sharp knife and cutting board for chopping the vegetables. You may also need a food processor or blender to make the pesto sauce.
Finally, you'll need a variety of kitchen appliances, including an oven for baking, a stovetop for cooking, a microwave for melting chocolate and heating milk, and a stand mixer or hand mixer for beating eggs and mixing dough. Remember to use kid-friendly tools and utensils and supervise children at all times, especially when using sharp objects or working with hot items.
Tips for Best Easter Recipes
Cooking with kids is a great way to bond and create memories. Here are some tips for making the best Easter recipes: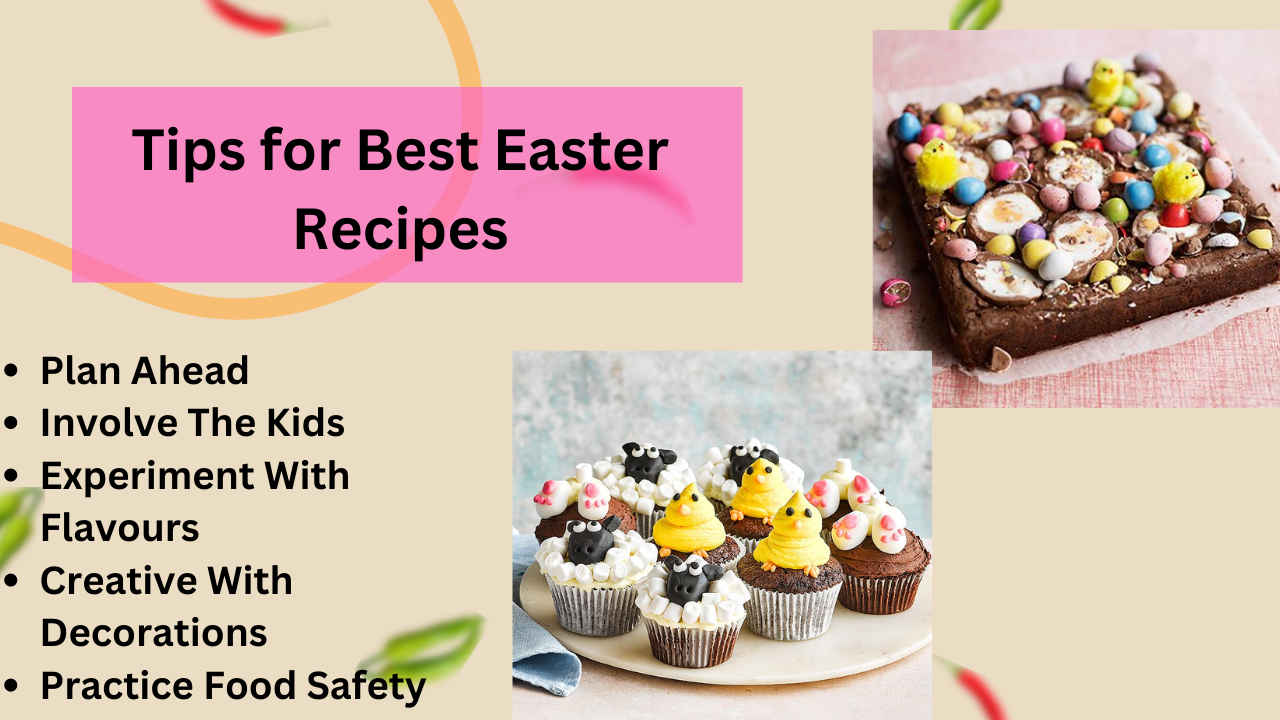 Plan Ahead: Before starting any recipe, make sure you have all the ingredients and necessary kitchen tools on hand. Read through the recipe in advance to understand the steps and ensure a smooth cooking process.
Involve The Kids: Easter is a great time to get the kids involved in the kitchen. Let them help with measuring, mixing, and decorating. This will not only create special memories but also teach them valuable cooking skills.
Experiment With Flavours: Don't be afraid to add your own twist to the recipes by experimenting with different flavours and ingredients. For example, try adding different fruits or nuts to the carrot muffins, or swapping out the veggies in the tart for your favourites.
Get Creative With Decorations: Decorating the easter treats is a fun and creative activity that the kids will love. Use different coloured frosting, sprinkles, and edible decorations to make the treats even more festive.
Practice food safety: Make sure to practice good food safety habits when preparing and storing the Easter treats. Wash your hands and surfaces frequently, keep perishable foods refrigerated, and discard any expired or spoiled ingredients.
Can I make these recipes ahead of time?
Yes, many of these recipes can be made ahead of time and stored in the refrigerator or freezer. The carrot muffins and bunny cookies can be stored in an airtight container for up to 3 days, while the Spring Vegetable Tart can be assembled and stored in the refrigerator for up to 24 hours before baking.
Can I substitute ingredients in these recipes?
Yes, you can substitute ingredients based on your personal preferences and dietary needs. For example, you can use gluten-free flour in the carrot muffins or dairy-free chocolate chips in the bunny cookies. However, keep in mind that substituting ingredients may alter the taste and texture of the final product.
Are these recipes safe for children to make?
Yes, these recipes are safe for children to make with adult supervision. However, make sure to use kid-friendly tools and utensils, and keep children away from sharp objects and hot surfaces.
Can I freeze the carrot patch pudding cups?
No, the carrot patch pudding cups should not be frozen as the gummy worms and cookie crumbs may become soggy when thawed. However, you can prepare the pudding and store it in the refrigerator for up to 2 days before assembling the cups.
Can I use fresh vegetables in the Spring Vegetable Tart?
Yes, you can use fresh vegetables in the Spring Vegetable Tart. However, make sure to blanch them first to ensure they are cooked through when the tart is baked. Also, keep in mind that fresh vegetables may release more moisture when cooked, which may affect the texture of the tart.
Conclusion
Cooking with kids is a fun and rewarding activity, especially during Easter. With these easy and delicious recipes, you can create memories that will last a lifetime. Remember to have fun, stay safe, and enjoy this special time with your loved ones. Happy Easter!